On the Nature of Fire, 65" H x 85" W
Embroidery on silk, velvet.

Fires of Change: the art of fire science is an artist/scientist project that explores how fire as an ecosystem process is impacted by climate change and societal development.

Bonnie's Fires of Change blog: the process behind this work.

Fires of Change Catalogue

Exhibitions venues:
University of Arizona Museum of Art: Nov 19, 2015 - April 3, 2016
Coconino Center for the Arts, Flagstaff: Sept 4, 2015 - Oct 31, 2015
516 Arts, Albuquerque, NM 2017

Fires of Change was funded by the National Endowment for the Arts and the Joint Fire Science Program and organized by the Flagstaff Arts Council.

Fire Ecology Journal Sept 2020 (has a photo of this work), "Integrating art and science to communicate the social and ecological complexities of wildfire and climate change in Arizona, USA"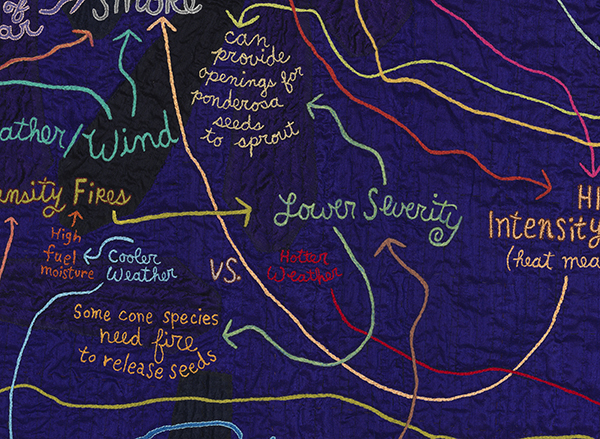 © Bonnie Peterson
www.bonniepeterson.com
writebon@gmail.com
photo credit: Tom Van Eynde
Exhibitions venues:
University of Arizona Museum of Art 2016
Coconino Center for the Arts, Flagstaff 2015
516 Arts, Albuquerque, NM 2017