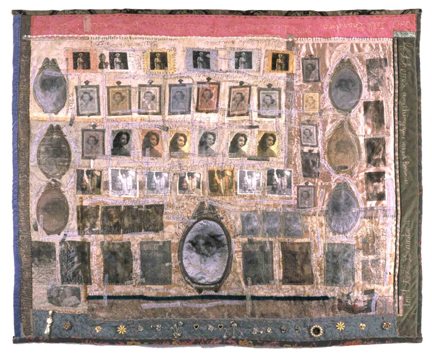 Don't Tell, 40"(L) x 48"(W)
Heat transfers and embroidery on brocade and velvet, hand and machine stitching, photographs of three generations of sisters in my family, and embroidered journal writing.
"Don't tell Dad, but Carol is going to have a knee replacement." "Don't Tell...," was the beginning of a sentence which disclosed a secret. The secret could be anything from routine car maintenance to marital problems, surgery, illness, and any generally unpleasant news which might provoke an unpleasant reaction.
I made this quilt after the death of my grandmother and her sister which occurred within a week of each other, several years ago. They are pictured together in an oval frame as young girls in the early 20th century. My grandmother had 2 daughters who are also pictured here in traditional post WW2 photos. My 2 sisters and myself are pictured in descending height. The jewelry is from my grandmother.